Donald F. Tarinelli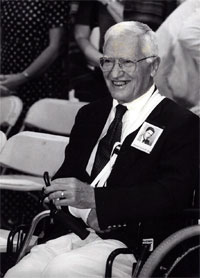 Donald F. Tarinelli passed away at Grace Cottage in Townshend on December 4, 2012 of natural causes. Donald was born April 6, 1930 in Bridgeport CT.

He was predeceased by his parents, Palmer Tarinelli and Loretta Assunta Roberto Tarinelli and his only brother, John Tarinelli. He is survived by his wife of 27 years, Mary Fraser Tarinelli, his four children and their spouses; Deborah Purvin and her husband Duane; Donald Tarinelli Jr. and his wife Sue; Christina Mauss and her husband Michael; Mark Tarinelli and his wife Gillian; seven grandchildren, Marissa and Mac Purvin; Julia and Rachel Tarinelli; Alexandra Mauss; Zoe and Jake Tarinelli; his wonderful guardian angel and loyal associate of 41 years, Bernice Beitman and his dear friend and associate Edward Lemkin; his first wife Vivian Hathaway Crouse; his good friends and brothers-in-law Paul V. Fraser Jr.; Philip Fraser and his wife Cathy, Christopher Fraser and his wife Joanne; many nieces, nephews and cousins.

Donald graduated from Fairfield Prep Class of '48' and continued his education at M.I.T. with a degree in Civil Engineering. He was a lieutenant in the United States Army Air Corp during the Korean War and worked on expanding runways for B-52's in Guam. He then went to work with his father in the Palmer Tarinelli Construction Company. In the early 1960's Donald and his dear friend and partner, Bernard Gilhully, formed Fairfield Associates, building moderate-income housing all over New England. Don found himself being drawn to Vermont, and built a vacation home on Stratton Mtn. in the early 60s. The family became avid skiers. In 1972, he and his friend Warren Hellman co-founded the Stratton Mountain School in which he took great pride in giving the Founders Award at graduation each year.

Donald was general manager and president of The Stratton Mountain Corp, 1973-1980. In 1984, he purchased Haystack Mtn. Ski Area and his beloved Golf Course. Don suffered a stroke in 1996 and was paralyzed on one side up until his death. His proudest accomplishment was founding, along with his wife, Our Lady of Ephesus House of Prayer, Inc. in Jamaica, VT. They were instrumental in building an exact replica of the Blessed Mother's last home there—the original being in Ephesus, Turkey.

Calling hours were held at Our Lady of Ephesus House of Prayer, 35 Fawn Ledge Lane, Jamaica VT on Sunday, December 9th from 2:00 to 5:00 PM.

Funeral Mass was celebrated at Our Lady of Ephesus House of Prayer at 12:00 PM on Monday, December 10th. Following the burial at Our Lady of Ephesus Cemetery, friends were invited to join in a celebration of Don's life during a luncheon reception.

Donations in Don's memory may be made to Our Lady of Ephesus House of Prayer, Inc. 35 Fawn Ledge Lane, Jamaica VT 05343, the Stratton Mountain School or Grace Cottage Hospital, Townshend, VT.